Keeping it
Christmas is a special time of the year… Make it a magical day for the entire family with a Real Christmas Tree from

Opening for the Silly Season 1st December
from 9am till 6pm, 7 days a week.
SORRY unable to tag/reserve a Christmas Tree.
How To Dad

HOW TO GROW A CHRISTMAS TREE
On a visit to the Christmas Tree Farm How To Dad learns about whats involved in growing a tree for Christmas!



We recommend the freshest way to display your tree is with a CINCO Christmas Tree stand available to purchase at our site.

We are a family owned & run business and the season is always a special time for us at The Christmas Tree Farm, we hope you will choose to share this time with us.
Thanks for visiting our page, we hope to see you soon.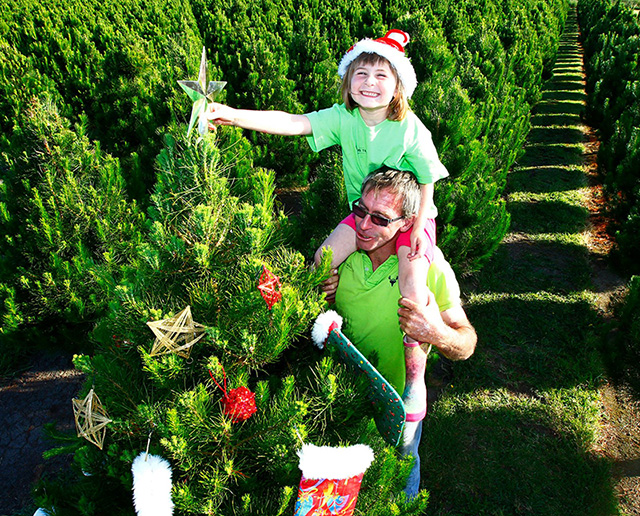 Keeping it fresh
You have a living tree – treat it as you would a cut flower.
Stand the tree in a cool, well ventilated space. The single most important thing you can do to keep your tree fresh is to keep it topped with water, water, water.
If a tree cannot be immediately placed in water and is left for a prolonged period of time, dried sap may form a seal over the base, hindering the trees ability to drink water, the best thing to do is to make a fresh cut about 1 cm from the base of the tree, this will allow the tree to absorb water again.
But whatever you do don't leave it in your hot car while you go and do the shopping!!